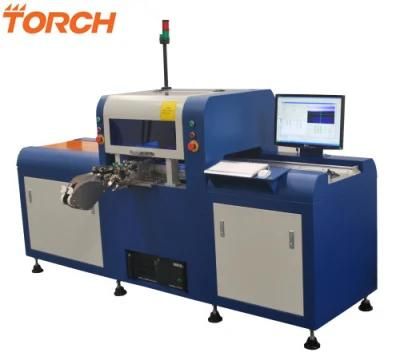 Model NO.:LED600
Typical Mounting Speed:6000-65000 Cph
Position Method:Visual Position
Component Available:0402and Above SMD Component and LED, Sot, Sop
Belt Feeder:8mm, 12mm, 16mm and 24mm
Feeder Num:2 PCS of Gf Series Feeder Can Be Set
Operation System:Windows XP
Compressed Air:80 Psi(0.5MPa)
Power Supply:220V, 50Hz, 3 Kw
Transport Package:Wooden Package
Specification:ISO
Trademark:TORCH
Origin:Beijing, China
Production Capacity:30 PCS ,Mounth
Model
LED600
Mount head
2 Pcs
Max circuit board size
1200*300mm
Max moving range
X axis 1500mm, Y axis 360mm
Max moving range of Z axis
10mm
Typical Mounting speed
6000-6500 CPH
Max mount speed
7000cph
Mount accuracy
+/-0.1mm
Position method
Machinery position
Component available
0603and above SMD component and LED
Programme method
Automatic data import/ video study/ keyboard input
Belt feeder
8mm, 12mm, 16mm and 24mm
Feeder num
2 pcs of GF series feeder can be set
Operation system
WINDOWS XP
Compressed air
80 psi(0.5Mpa)
Power supply
220V,50Hz, 3 Kw
Weight
320kg
Dimension
2600*680*1500mm
Features:
1. The first industry of special LED chip mounter using servo control system.

2. The first industrial using high precision ball screw drive LED chip mounter

3. The only one can reliable mount 20mm following SOP, diode, triode, SOT and more than 0603 apart (higher than 5m aluminum electrolytic capacitor)

4. Only a configuration own patent intelligent electronic feeder of LED automatic chip mounter

5. Only one complete the programming and placement of LED panel board

6. The only one to achieve off line programming feature LED placement machine.

7. The only one an video programming LED full automatically placement machine.

8. Powerful data input feature, can satisfy any format PCB data import.

9. The only one can reliable mount 0603 components LED full automatically placement machine.

10. The equipment with safe cover, protect the personal safe effectively, at the same time anti dust.

11. Can be configured more than 5 nozzle, softeware note you change nozzle automatically.

12. Actual mounting speed is 6000CPH.
Remark:
1 Board driving system uses high precision stepper motor driving industrial belt, cooperating with precision guide-rail to achieve the improvement on placement accuracy and board driving speed

2 Mounting head driving system uses servo motor, together with high precision ball screw to achieve the completion of the LED component picking and placing.

3. 2 groups of mount head improves production efficiency of 60% than 1 group.

4 Visual programming automatically, without input component coordinates by hand. Programming is simple, easy for beginners to learn.

5 Different sizes of feeder can meet different requirements of LED mount.

6. Cost-effective LED chip machine is most suitable for high-volume LED production.

7 The whole machine is controlled by industrial computer with professional software, easy to operate and use.

8 Easy to import CAD data of the circuit board.

9 Stable and easy to complete the programming and placement of LED panel board

10 Panel board coordinates can be displayed in the software, fine adjustment for these coordinates to achieve high-precision placement.

11 The space of panel board can be set in software, all component placing coordinates will be showed according to the space of panel board, and the panels that need not to mount can be selected out.

12 If the board have manufacturing quality problems, LED600 can shift the component place for accurate mounting.

13 Software can realize to achieve automatically double mounting head function.

14 Software increases the XYZ axis detection limit when moves

15 software increases 6 grades speed changing function, you can check out the best speed setting according to the distance check sheet and to do speed adjustment, which can increase the stability for long time usage.

16 PCB platform has vacuum absorb function, which can help large-size PCB board position accurately, improve placement accuracy. Meanwhile, it can complete soft flexible light strip of (FPC) position and mount. (Optional).


Cooling fan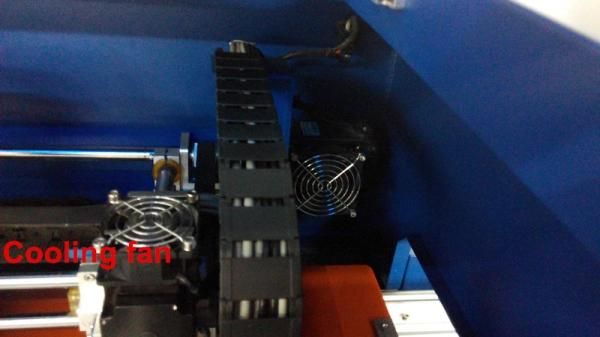 Max Place 12Pcs Feeder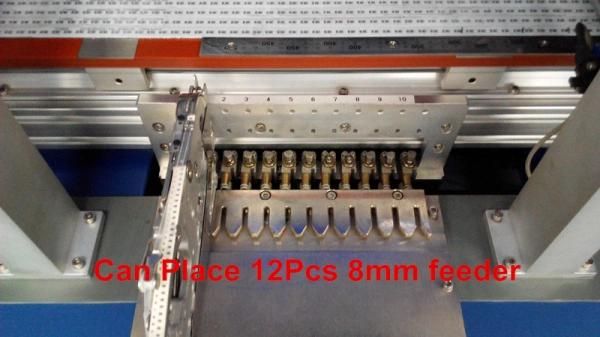 Contact details: